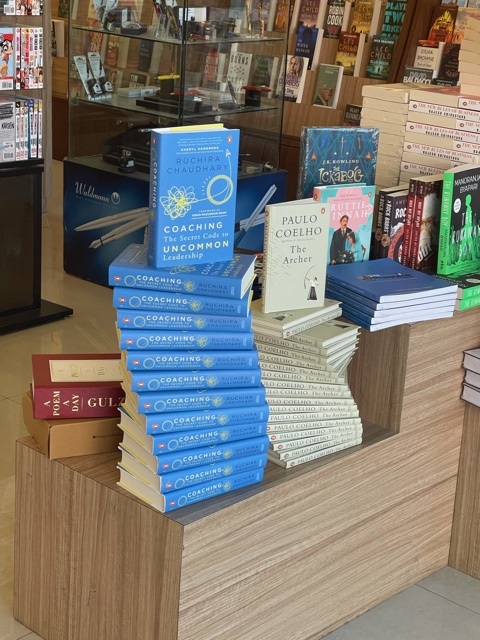 Coaching: The Secret Code To Uncommon Leadership
By Ruchira Chaudhary
This book lucidly illustrates how a leader can bring out the very best in people by coaching them, and how coaching can unleash creativity as well as innovation while inspiring teams to play to their potential. It also examines how coaching helps leaders maintain a fine balance between managing and guiding, and between appraising and supporting their teammates. While many excellent books have been written about leadership, talent and coaching, this is a rare book that stands boldly at the intersection of leadership and coaching.
9 June 2021
Do superstar performers make superstar leaders?
Forbes India
29 April 2021
Ruchira Chaudhary on why coaching matters more than ever now
Mint Lounge
5 March 2021
How Satya Nadella brought a growth mindset to Microsoft
Mint
21 June 2020
Underpaid as a Female Freelancer? Here's How to Fix It.
Harvard Business Review
13 August 2019
Building a strong gig ecosystem starts with cutting paperwork, expanding network
Mint
15 July 2019
Making gigs work: The many ways to engage and retain independent professionals
Mint
10 July 2019
Why there is a gender pay gap in freelancing
Mint
10 June 2019
Workplace Trends- Real Or Doubtful
Human Capital
4 March 2019
The many mantras of conflict management
Mint
14 February 2019
What to Do If Your Boss Finds out You're Looking for a Job
Harvard Business Review
21 December 2018
What to do when you have made a mistake at work
Harvard Business Review
26 July 2018
Companies trying to build their leaders' capabilities must invest in coaches, not cheerleaders
Mint
19 July 2018
In a VUCA world, a leader-coach should know that encouragement is the best team motivator
Mint
5 July 2018
Good managers often make bad coaches, coaching is perceived to be the job of experts
Mint
12 June 2018
'Connector managers' guide team members and connect them to others who can help
Mint
25 March 2018
How gig talent can make HR agile
Founding Fuel
18 February 2018
Ten interesting things that we read this week
Forbes
11 February 2018
Is India ready to embrace the gig economy?
Mint
4 December 2017
The Rise of Independent Professional Consultants
HQ Asia
9 October 2017
The Tectonic Shift from In-House to On-Demand Talent is Transforming the Consulting World
HQ Asia
19 April 2017
Innovative HR Practices at Medtronic
HQ Asia