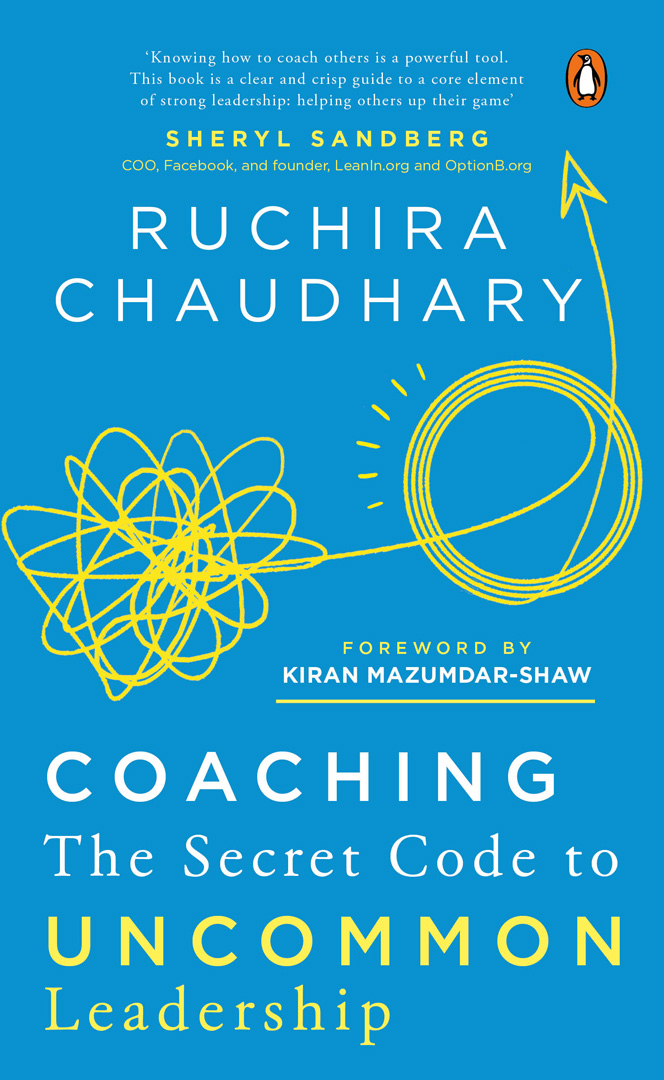 Coaching: The Secret Code To Uncommon Leadership
By Ruchira Chaudhary
This book lucidly illustrates how a leader can bring out the very best in people by coaching them, and how coaching can unleash creativity as well as innovation while inspiring teams to play to their potential. It also examines how coaching helps leaders maintain a fine balance between managing and guiding, and between appraising and supporting their teammates. While many excellent books have been written about leadership, talent and coaching, this is a rare book that stands boldly at the intersection of leadership and coaching.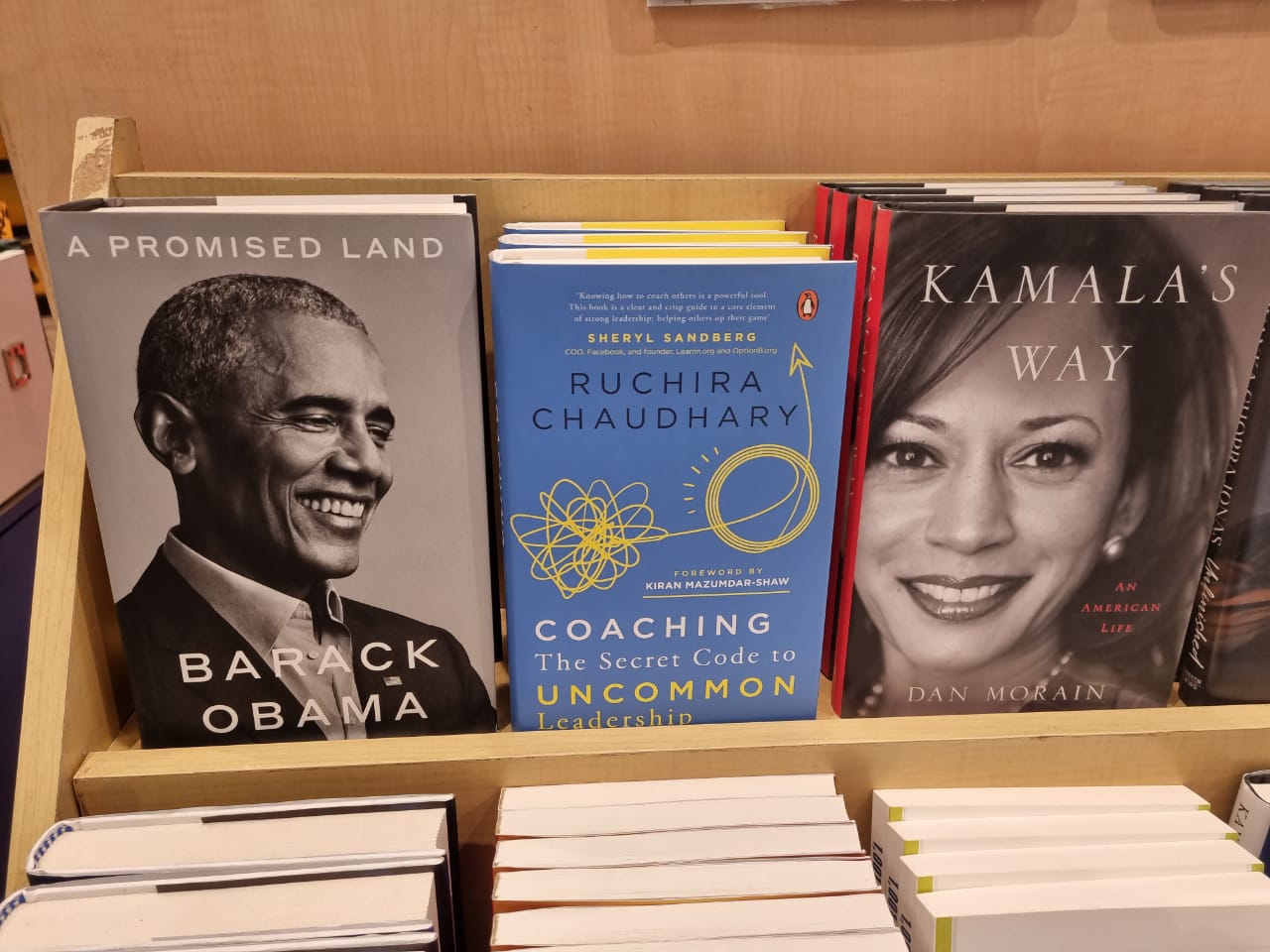 Businesses are facing a new reality, characterized by a VUCA (volatile, uncertain, complex and ambiguous) world. This new reality has forced organizations to depart from conventional command-and-control practices to a completely new model – a model in which leaders support and guide, rather than instruct and control, their team members.
Exploring some of the key ingredients of impactful leadership, Coaching offers tips and tricks, backed by research and incisive insights, on how to become an effective leader-coach. Peppered with interesting anecdotes and analogies, drawn from sports, performing arts and other walks of life, the book is a breezy read. Interviews with corporate leaders and academics further enrich the narrative. Guaranteed to make for a very interesting read, the book will be useful to leaders, aspiring leaders and especially those that wish to transition from being just good leaders to extraordinary ones.
"The Secret to Uncommon Leadership is Coaching!"
A compelling and powerful guide for anyone who wants to transition from being a manager to a leader, or from being a good leader to an extraordinary one.
Two of the world's most powerful women seem to think so!
"Knowing how to coach others is a powerful tool. Ruchira Chaudhary's book "Coaching: The Secret Code to Uncommon Leadership" is a clear and crisp guide to a core element of strong leadership: helping others up their game."

Sheryl Sandberg

COO, Facebook, and Founder, LeanIn.Org and OptionB.Org
"Ruchira Chaudhary's book resonates with me deeply because, in many respects, it
mirrors my own leadership behaviours. It takes a fresh look at coaching, which is the
secret ingredient that distinguishes an average leader from an extraordinary one."

Kiran Mazumdar-Shaw

Executive Chairperson, Biocon
"Knowing how to coach others is a powerful tool. Ruchira Chaudhary's book "Coaching: The Secret Code to Uncommon Leadership" is a clear and crisp guide to a core element of strong leadership: helping others up their game.

Sheryl Sandberg

COO of Facebook, and Founder of LeanIn.Org and OptionB.Org
"Today's digitally oriented organisations operate at high speed and complexity - they need leaders who are coaches, not controllers. These leaders in turn have the responsibility of building future-ready leaders who are agile and nimble. A leader needs to encourage his or her team to constantly innovate, think out of the box and deliver transformative change. This book does a great job of illustrating how the best leaders do that through coaching. A timely read for anyone wishing to transition from being a manager to a leader or from being a good leader to a great one.

Nandan Nilekani

Chairman and Co-Founder Infosys, and Founding Chairman, UIDAI (Aadhaar)
"At Microsoft, our culture is grounded in a growth mindset: the belief that everyone has tremendous potential to improve and grow. And what we've found is that coaching sits at the foundation of empowering each person to become a successful leader, which is why we included coaching as one of the three core attributes in our management excellence framework - Model, Coach, Care. This book helps unlock the secrets of coaching in a thoughtful collection of learnings, insights and case studies that will guide the leaders of today on how to empower the leaders of tomorrow.

Kathleen Hogan

Chief People Officer, Microsoft
"Real leadership is not just about building a big empire or achieving millions in revenue - its also about the journey and the teams we build along the way. How you develop your people, arm them with opportunities to grow, to flourish and help them discover their own path. Ruchira's book describes this facet in great detail and how leadership today is about asking -not telling others what to do. Coaching helps leaders elevate not just their teams but also themselves as it makes them more capable, creative, confident and self-aware.
A wonderful business book from an ex-TCS colleague.

S. Ramadorai

Former CEO and MD Tata Consultancy Services, and former advisor to the Prime Minister of India for the National Council on Skill Development
"Read this, then Lead this! This book provides a powerful framing of leadership as coaching. Then the book goes beyond that - to how you can embed a coaching culture throughout your organization. This is exactly what today's firms and employees need from our leaders. With this wonderful book, my great student Ruchira becomes my teacher.

Michael Gibbs

Clinical Professor of Economics, The University of Chicago Booth School of Business and co-author of the textbook Personnel Economics in Practice
"The market is full of great books on leadership, talent and coaching, but this book is different. With deep insights and fascinating anecdotes, Ruchira Chaudhary builds a powerful business case for the leader-coach, articulating that one cannot be a great leader, without being a great coach.

Sydney Finkelstein

Professor at the Tuck School of Business at Dartmouth, bestselling author of Superbosses, and host of the podcast, The Sydcast
"Coaching is about leading from the front. It is about setting the right example and letting your game do all the talking. It's also about being a dependable leader that the team can always count on—consistency, continuity and constancy is how I think of my cricketing legacy and leadership style. This book is a must-read for anyone who wants to transition from a good captain or leader to an exceptional one.

Mithali Raj

ODI and Test captain, Indian women's cricket team
""Teach a man or woman how to fish and you give a vocation of a lifetime."
We have heard that before, and indeed coaching is at the core of this thought! Ruchira's book captures the essence of the philosophy, rationale, method, practical guidance and satisfying outcomes that coaching can give us all, whether in the corporate world or indeed any walk of life. The book's publication is timely, in the post-pandemic world, when people and talent who make a demonstrable impact matter, and they too need a gentle nudge to unleash their uncommon leadership which coaching can provide.

Suresh Narayanan

Chairman and Managing Director, Nestlé India Ltd.
"Coaching has to be an integral element of your leadership as an executive across levels, and the company culture needs to support that. Ruchira's book explores the nuances of how all the stakeholders—the leader, the organization and the external coach—work in tandem to unlock the fullest potential of the individual and the organization. I love the fact that she brings in wisdom from various disciplines outside of business to distil the essence of what it takes to be an effective leader-coach. A much-needed piece of work.

Deepak Jayaraman

Leadership coach, transition adviser, and curator of the award-winning podcast Play to Potential
9 July 2021
Leadership Competencies: Past, Present and Future
ETHRWorld
25 June 2021
'Coach your employees by asking powerful questions, and finding answers together' – author Ruchira Chaudhary on leadership
YourStory
17 June 2021
Leading Thoughts for June 17, 2021
LeadershipNow
2 May 2021
Ensuring business success and resilience – the why and how of leadership coaching
YourStory
29 April 2021
Ruchira Chaudhary on why coaching matters more than ever now
Mint Lounge
22 April 2021
Why managers must be coaches too
Business Standard
22 April 2021
We Spoke to Author Ruchira Chaudhary on Being an Effective Leader During Turbulent Times
Bitbean
22 April 2021
Author Ruchira Chaudhary: Five Things You Need To Be A Highly Effective Leader During Turbulent Times
Authority Magazine
6 April 2021
Book Review: When The Leader Is Also A Coach
BW Businessworld
26 March 2021
Leadership Coaching Should Be About Gender Equality Says Ruchira Chaudhary
Women's Web
23 March 2021
How You Can Coach Your Team through Times of Crisis
The University of Chicago Booth School of Business
5 March 2021
How Satya Nadella brought a growth mindset to Microsoft
Mint
27 February 2021
On Day 4 of Delhi Literature Festival 2021, Preeti Shenoy, Ayush Jindal, Bharathi S Pradhan discuss their latest books
Firstpost
26 February 2021
Burnout, Grief, Loneliness: Why Employers Need to Acknowledge These Issues in Pandemic Times
CNN News18
22 February 2021
The secret sauce to leadership
Business India
21 February 2021
BOOK EXCERPT – Coaching: The secret code to uncommon leadership
CNBC TV18
14 February 2021
The code to uncommon leadership
The Hindu BusinessLine